Pelvic Ultrasound
By: South Florida Perinatal Medicine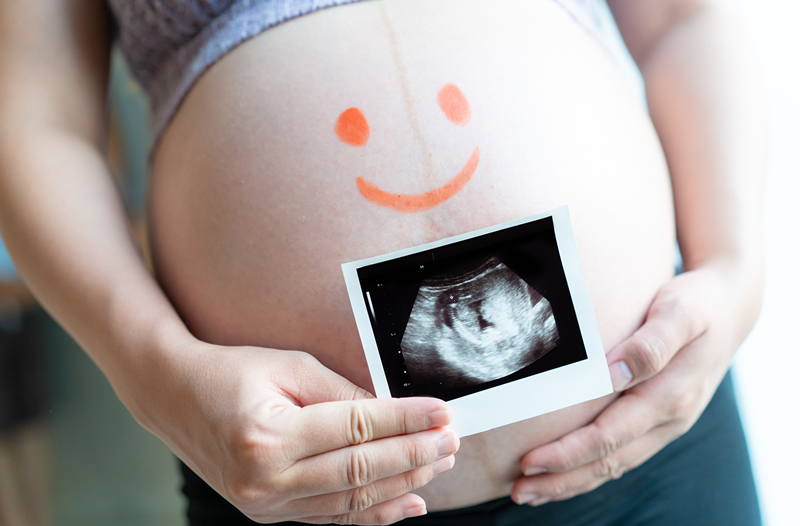 Things to Know about Pelvic Ultrasound and Pregnancy
A pelvic ultrasound can provide detailed information about your reproductive organs as well as a pregnancy. It may be used during fertility treatments as well. Being accurate, non-invasive, relatively low risk and cost-effective, it has become an indispensible tool in monitoring pregnancy, especially when high risk.
What is a pelvic ultrasound?
The primary use of pelvic ultrasound is during pregnancy. During this procedure high-frequency sound waves create images of the pelvic organs. The sound waves are projected into the pelvis, and measure how they reflect—or echo—back from the different tissues. It can also find fibroid tumors, ovarian growths, cysts, and problems with fallopian tubes. This test may be done in one of two ways.
Transabdominal ultrasound. In this method a small handheld device called a transducer is passed back and forth over the lower belly to look for large uterine fibroids or other problems.
Transvaginal ultrasound. Here the transducer is shaped to fit into a woman's vagina. Some women may have both transabdominal and transvaginal ultrasounds to look at the whole pelvic area. A hysterosonogram (in rare cases) may also be done to look at the inside of the uterus. Sometimes, a small sample of tissue (biopsy) may be taken with small tools inserted through the vagina during a transvaginal ultrasound.
When the ultrasound is complete, the technologist will make sure he or she has all the information the doctor will need.
When might you be asked to do a pelvic ultrasound?
Early pregnancy: When you are around five to seven weeks, the ultrasound may be used to determine the size of the fetus to confirm the suspected due date, detect multiple fetuses, or confirm that the fetus is alive (viable).
Ectopic pregnancy: It is also particularly useful in distinguishing between intrauterine (within the uterus) and ectopic (outside the uterus) pregnancies.
Middle of the pregnancy: When you are about 16–20 weeks, the procedure can confirm fetal growth, reveal defects in the anatomy of the fetus, and check the placenta and amniotic fluid.
Toward the end of pregnancy: It may be used to evaluate fetal size, position, growth, or to check the placenta.
Prenatal genetic testing: Doctors may use ultrasound to guide the biopsy needle during amniocentesis and chorionic villus sampling. The imaging allows precise placement of the long needle that is inserted into the patient's uterus to collect cells from the placenta or amniotic fluid.
Early labor: It may also be used to check the cervical length in pregnant women who are at risk for preterm labor.
Some other reasons you may be asked to do a pelvic ultrasound:
To find out what is causing pelvic pain
Determine the cause of vaginal bleeding
Look for pelvic inflammatory disease (PID)
Find an intrauterine device (IUD).
Look at the size and shape of the uterus and the thickness of the uterine lining (endometrium)
Determine the size and shape of the ovaries
Check the condition and size of the ovaries during infertility treatment
Check a lump found during a pelvic examination
Check uterine fibroids (as well as their growth) found during a pelvic examination
Guide a procedure to remove an ovarian follicle for in vitro fertilization
How to prepare for a pelvic ultrasound
This test is done by a doctor or by an ultrasound technologist (sonographer) in an ultrasound room in a hospital, clinic, or doctor's office.
Talk to your doctor about any concerns you may have (including risks) and what the results may signify.
Wear loose clothes. You may be asked to remove all your clothes below the waist and put on a gown.
You may need to sign a consent form if you are having a biopsy or a special procedure during the ultrasound.
A pelvic ultrasound takes about 30 minutes. You could be asked to wait until the doctor has looked at the pictures as he/she may want to take some more.
The ultrasound has emerged as the gold standard imaging modality for women in their first trimester with pregnancy-related complaints. Many emergency physicians use a pelvic ultrasound along with a pelvic examination for a clearer diagnosis.